Welcome to Flint River!

Do you have a pet that you really care about? Then Flint River Ranch Super Premium Health Food for Dogs and
Cats is the premium pet food you have been looking for!

Flint River Ranch Oven Baked Kibble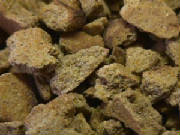 Only the Best for Your Pet!!
Super Premium All Natural Pet Foods
Please click on the products listed below to read more about each!
100% Fresh
100% All Natural
100% Oven Baked
100% Great Taste
100% Healthy
100% Balanced Formula
100% High Digestibility
100% Free Delivery
100% Customer Support
100% Loving Care

No Artificial Colors
No Artificial Flavors
No By-Products
No Chemical Preservatives
No Ethoxyquin, BHA or BHT

All Natural Ingredients - plus Essential Vitamins and Minerals


Try a Flint River Ranch Sample Pack! For $7.50 (price includes free shipping) receive an all dog sampler containing samples of several dog foods; or an all cat sampler with several samples of kitty food; or a combination dog/cat sample pack. There are no added costs!
Flint River Ranch Sample Pack $7.50
[ Previous 5 Sites | Skip Previous | Previous | Next ]

This RingSurf Flint River Ranch Pet Food Distributors Net Ring
owned by Ginny Your Flint River Ranch Independent Distributor MRF1.

[ Skip Next | Next 5 Sites | Random Site | List Sites ]
Please visit our Sponsor:
Visiting Michigan? Try a Michigan Lake Vacatin Home - Michigan Vacation Rentals or stay in Silver Lake with a Silver Lake Rentals Vacation.